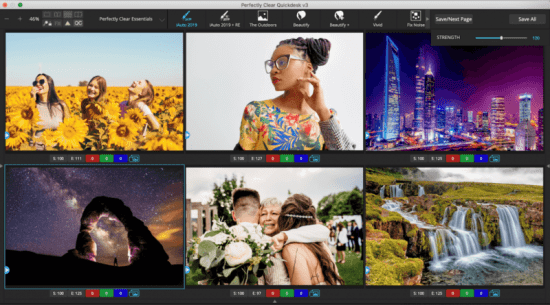 Perfectly Clear QuickDesk & QuickServer 4.1.2.2312 Multilingual (x64) Portable
File size: 226 MB
Perfectly Clear QuickDesk is designed for labs that process 100's to 1,000's photos per day. It can be totally automatic or allow individual review and adjustment to get the highest quality output from every image. It can automate your basic color and exposure correction workflow, and dramatically speed up retouching and more detailed corrections.
Take full control
If there's a photo or two that you need to fine tune, it's no problem! You can zoom in to edit individual photos if needed, or apply custom tweaks to the thumbnail and sync with the rest of the job, giving you full control over your photo correction workflow.
QuickDesk's visual interface allows you to review, approve, and fine tune each image. Many high volume pro photographers use this batch processing software for photos to quickly get through editing their shoots, and labs across the world use it to edit photos for print.
Six Image View
Automatically save and process in the background while you're working on the next batch of six.
Viewing Options
View single images on screen or pull up a side by side image for better perspective.

Batch Work
Explore options with batch processing and save all images automatically without viewing.
Product Features
• QuickDesk offers the best of both worlds- you can automate your workflow while keeping as much control as you would like. This batch processing software for photos includes several preset groups for ease of use. These include Perfectly Clear Essentials, Perfect Lifestyle, The Great Outdoors, Perfect Portraiture, and Perfect Exposure. You also have the option to create your own preset!
• Open a folder of photos quickly, then see the corrected image nearly instantly.
• Each photo is individually corrected according to your preset, giving you great, custom results with zero user interaction.
• Preview six photos at a time to speed through manual quality review.
• Need to tweak? Zoom in on individual images for detailed retouching.
→ Unique Corrections with Full Control
Tone
Achieve perfect exposure with depth, done automatically pixel by pixel to ensure zero clipping, zero color shift, and zero artifacts.
Color
Showcase the intended color the eye can see, remove unwanted tint and properly recreate purple that cameras can't capture.
Details
Preserve the integrity of the details through crisp sharpening and powerful noise removal.
Eyes
Automatically remove red-eye, dark circles, and enhance and enlarge eyes with ease.

Supported Operation System
• Windows 8, 10 and 11 (64-bit only)
HOMEPAGE
Code:
https://eyeq.photos/
DOWNLOAD RAPIDGATOR
Code:
https://rapidgator.net/file/ff47d8d82166c05787be2f6f8ac7be5b/Perfectly_Clear_QuickDesk_4.1.2.2312_[HCiSO]_.dmg.html
DOWNLOAD UPLOADGIG
Code:
https://uploadgig.com/file/download/57ce998350f1d9eA/Perfectly_Clear_QuickDesk__QuickServer_4.1.2.2312_x64_Portable..rar