Barcelona secured their 25th La Liga title with a win at El Riazor on Sunday night but they didn't have it all their way. Deportivo fought back from a two goal deficit to tie the game before Lionel Messi scored twice in the final ten minutes to decide the match.
The 'Blaugrana' went into the game knowing that a point would be enough to seal their seventh league title in the last ten years, but for a time in the second half it looked as if the Galicians might make them wait at least another week. Depor, on their part, knew that
nothing short of a win would see them relegated from the top division.
Andres Iniesta started the match from the bench having announced his impending departure from the only club he has ever played for, but he was out of his seat after only seven minutes after
Philippe Coutinho gave Barca the lead . The Brazilian swept a peach of an effort home from the edge of the box after Semedo cut the ball back to him.
To their credit, having given Barcelona a guard of honour before the game, Deportivo did not lie down. 10 minutes after Coutinho's effort they thought they were level only for a late flag to deny them and get the crowd whistling.
When they did eventually score, it was only to make it 2-1 after Messi volleyed home from a stunning Suarez cross . Deportivo swiftly ran up the other end to ensure it was still only a one goal lead at half time. Lucas Perez tapped home after the ball was squared to him in the box.
Based on this performance, it is difficult to understand why Deportivo are in the position they are in. Clarence Seedorf's side showed grit and determination to fight back against their much more illustrious opposition, and for large periods of the second half they controlled the game.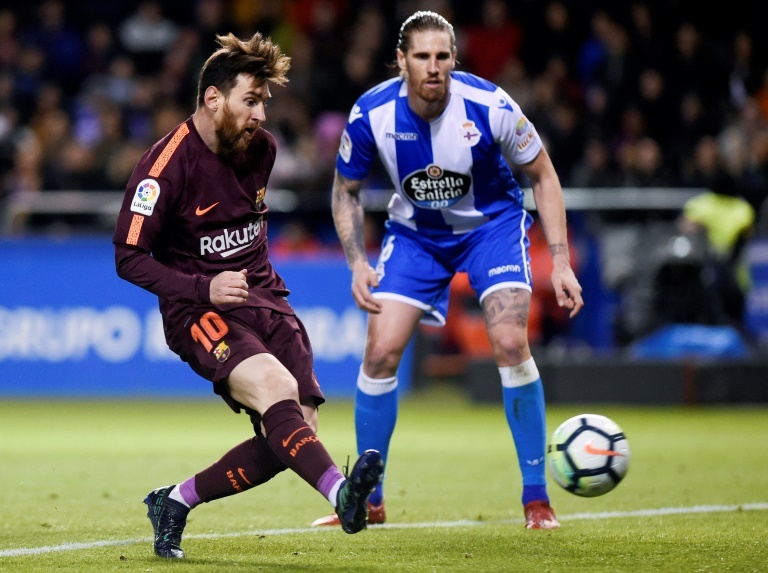 The pressure showed as they drew level on 64 minutes. In a goal reminiscent of the first, Colak scored after the ball arrived at his feet in the six yard box. They could have taken the lead soon after following a scramble from the corner.
However, with time running out, Barcelona's class finally prevailed. Messi scored twice on 82 and 85 minutes to give the win a sheen it maybe didn't warrant, and bring about the introduction of Iniesta for the final minutes.
The final whistle saw muted celebrations from the champions, aware perhaps that their hosts had just been relegated. Their task now is to preserve their unbeaten record to the end of the season - a feat which has never been achieved in Spain before. The first team standing in their way: Real Madrid.