Hello PluginLibrary!
This is a sample PluginLibrary Plugin (which can be disabled!) that displays this message on all pages.
Connect with your social network account
Hi Guest this is an announcement for guests !!!
Thread Rating:
Salah Wins Pl Golden Boot After Golden Ball
14-05-2018, 08:24 AM,
(This post was last modified: 14-05-2018, 08:29 AM by MrCally.)
MrCally
Moderator



Posts: 369

Threads: 44

Joined: Mar 2018

Reputation:

0 View MrCally's Download Submissions Points: 7,624.40€

Level:

17 []

Total Points: 1,248

RANK 42 / 422
92% to upload Level ACTIVITY 123 / 1248
92% to upload your rank EXPERIENCE 91
9% to increment your activity
Salah Wins Pl Golden Boot After Golden Ball
The Liverpool forward was on target again in a final
day clash with Brighton, taking his tally to 32 and a
new high for a 38-game top-flight campaign
Mohamed Salah has set a new record for Premier
League goals in a 38-game season, with the
Liverpool forward recording his 32nd effort of the
campaign against Brighton.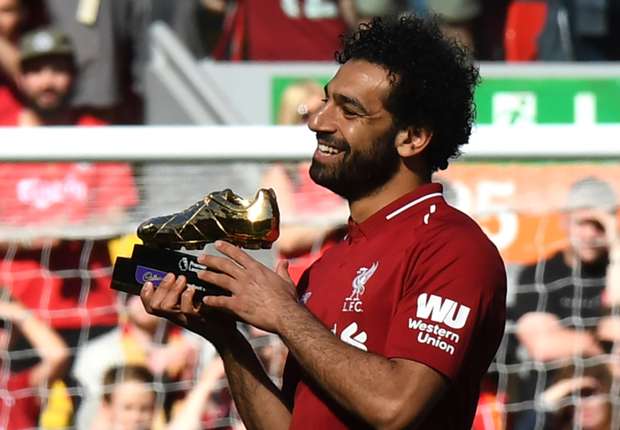 ---
Heading into the final fixtures of 2017-18, the Egypt
international sat level with three modern day icons
on the English top-flight roll of honour.
A remarkable debut campaign at Anfield had seen
him net 31 times, the same return that Alan Shearer
managed at Blackburn in 1995-96.
Cristiano Ronaldo also achieved the feat while with
Manchester United in 2007-08, before Luis Suarez
carried Liverpool agonisingly close to title glory with
an identical haul in 2013-14.
Salah has now blasted past them all, with the 25-
year-old continuing to raise the bar in a stunning
season.
He had gone three games without finding the target
heading into a meeting with Brighton on the final
day, but needed just 26 minutes against the Seagulls
to rediscover his shooting boots.
Having started that contest three clear of
Tottenham's Harry Kane in the race for the Golden
Boot , Salah also added another prestigious prize to
his ever-growing collection.
"This one is very special to be honest, the golden
boot," Salah told Sky Sports after being confirmed
as the top goalscorer in the Premier League . "But as
I have said before many times, it's always on my
mind to help the team win games.
"So now we're in the Champions League next year
and I've won the award, so I'm very proud. I'm
always trying to improve, I'm improving year after
year.
"It's very special to break the record here [at Anfield].
I will do my best to win it next season!"
Golden Boot? Come here to daddy
Your fingers and toes are your little friends, be kind to them.
Mr
Cally
Possibly Related Threads...
Thread
Author
Replies
Views
Last Post
See How Ladies Welcomed Atletico Madrid Players After Landing In Uyo. Photos
talentedtk
0
169
22-05-2018, 02:11 AM
Last Post: talentedtk
Mohamed Salah Biography, Age, Profile And Lifestyle
talentedtk
3
546
14-05-2018, 10:16 PM
Last Post: cyberlord
Mohamed Salah Wins Premier League Player Of The Year Award(photo)
talentedtk
0
442
13-05-2018, 07:50 PM
Last Post: talentedtk

MUST READ:

Barcelona Wins Their 25th La Liga Title
chem
1
702
30-04-2018, 05:37 PM
Last Post: cyberlord
Mohamed Salah Hugs Roma Players Before Destroying Them On The Pitch
templezsmith
4
936
26-04-2018, 09:51 PM
Last Post: chem

MUST READ:

Official. Sallah Wins Pfa Player Of The Year.
chem
3
975
24-04-2018, 12:18 AM
Last Post: chem

MUST READ:

Leroy Sane Wins Pfa Young Player Of The Year
chem
3
1,014
23-04-2018, 08:34 PM
Last Post: Fullygistloaded
Users browsing this thread: 1 Guest(s)